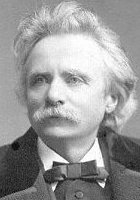 Edvard Grieg 1843-1907

Français
Nederlands
EDVARD GRIEG
Shortly before his death on the 4th of September 1907, Grieg wrote 'Perhaps my music will not survive very long'. Indeed, until recenty, the Norwegian composer was almost only known by his renowned Piano Concerto in a minor and the incidental music he wrote for Hendrik Ibsen's Peer Gynt. Even less known is his chamber music, more than 150 songs and a large number of piano pieces that were unfairly discarded as 'salon music'.
Universal as well as Norwegian, at the crossroads of popular and serious music, at the junction of romanticism and impressionistic innovation, both heroic and intimate, his music has kept its unique breath of freshness and poetry, and is more than ever living in the heart of the music lovers.
This site is the meeting point of all musicians and music lovers interested in the music of Edvard Grieg. Here you will find various information about the most famous of Norwegian composers: an opus list, an agenda of concerts, talks and events in relation with his music.
As it is the case with the other Grieg Societies in Norway, Germany, the United Kingdom and the United States, the Belgian Grieg Society aims at promoting Grieg's music in Belgium and encouraging the study and research projects about his life and work. It is also a starting point to explore all music from the North, whether past and present, as this music does not yet feature very often on concert programs.
For the moment being, most of the information on this site is only available in French. We want to apologize for this. Any help with translating is most welcome!